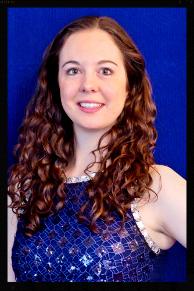 Photo courtesy of Andre R. Gagne Photography
Claire Conway
Sponsored by: Musicare Inc.
Claire has a Bachelor of Music and is completing her Bachelor of Education from the University of Ottawa. This 23 year old's aspirations are to teach instrumental music and French. Versed in Celtic harp, piano, flute and voice, Claire also works part-time at Musicare in Ottawa. She has been actively involved with her parish in Moose Creek, Ontario and more recently the Alzheimer's Society in Cornwall leading to her interest in the therapeutic impact of music on individuals affected by dementia. If not playing music, look for Claire on the dance floor! She participated in many a Feiseanna over nine years with the Couperus Academy of Irish Dance and taught with the Taylor School of Irish Dance in Ottawa. Currently, she enjoys salsa dancing with the Salsa Fever Dance Group. Claire's father hails from Co. Tyrone.
Check back here and on Twitter (@OttawaRose) and Facebook (Rose of Tralee Ottawa Centre) for updates on Claire's year as the Ottawa Rose!