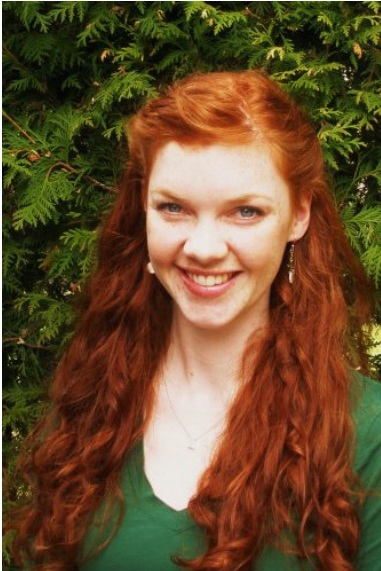 Laura Hay
A first generation Canadian, this 24 year old grew up with her five siblings on the shores of Georgian Bay in Southern Ontario. Living in the Capital City of Canada, Laura completed a Masters in History at the University of Ottawa. She now works as a policy analyst for the Federal Government in Indian and Northern Affairs Canada and hopes to further her career working on First Nations social concerns. As an active member in Ottawa's Irish community, Laura takes Irish language and dance classes and sits on the Board of Directors as Cultural Chair for the Irish Society of the National Capital Region. She also volunteers for Big Sisters Ottawa in their mentoring program for 12 to 14 year old girls. Outdoors, Laura loves hiking and running in snowshoes while at home you will find her baking, knitting, playing violin and relishing in watching BBC adaptations of classic literature.

Since 2010, Laura has moved Government Departments and is now working in the First Nations and Inuit Health Branch of Health Canada. During her spare time she continues to be an active volunteer within the Ottawa Irish community.

On Rogers Daytime Television:


Ottawa St. Patrick's Day Parade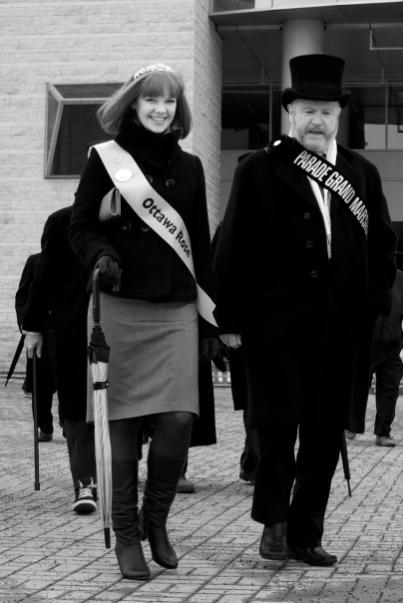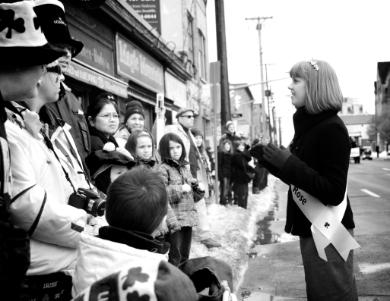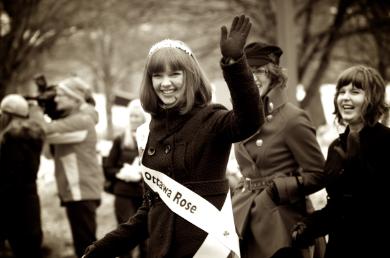 Photos courtesy of Casey Li

Below: Laura with her Mom Angela and Austin Comerton of the Ottawa Centre at Regionals in Portlaoise, Ireland.

The Ottawa Rose: Closer to Home
The Rose of Tralee Festival may well be over for the year but my time as the 2010 Ottawa Rose continues on until the next selection in March. Here at home I continue to participate in various activities as the current Ottawa Rose.
During the summer the Rose of Tralee Ottawa Centre had a boat in a flotilla – a boat parade - as part of the Rideau Canal Festival. This fall, I attended public events within the Irish Community including the St. Patrick's Home Foundation announcement for its campaign to raise 10 million dollars to help build a new long-term care home in the city.
Beyond the city's Irish community, I participated in the 3C Foundation of Canada's Ottawa fundraising event. This foundation focuses on Crohn's disease, colitis, and colorectal cancer and hosted its major fundraiser, Wine, Whiskey and Wi-Fi with an Irish theme this year at the Irish Ambassador's Residence. The fundraiser was a massive success, raising $65,000 in support of their causes.
One final event I would like to mention holds particular sentiment for me as I coupled one of my personal causes with my role as the Rose. In September, after growing it for three years to do so, I donated more than a foot of my hair to Locks of Love. This non-profit organization accepts hair donations to provide young people (under the age of 21) with hairpieces to, "return a sense of self, confidence, and normalcy" after having suffered long-term hair loss from their diagnoses. A few weeks after donating my own hair, I was asked to attend an elementary school assembly as another donation was being made to the Locks of Love Organization. This time however, it was by 10 year old Lucas Watters. Lucas not only donated his hair to Locks of Love but also raised money for the Ottawa Valley Aid for Chernobyl Children; a local group that coordinates summer visits with Ottawa Valley host families for children living in the areas still contaminated by radiation from the Chernobyl Disaster in 1986. Having made up his mind to do so three years ago, he too, had reached his goal in the fall of this year and followed through with his donation. I was so happy to be able to show my support for this amazing young boy who at 10 years of age is already working for his own causes.

I hope to continue promoting the Rose of Tralee here in Ottawa and would like to think that with each month the word is getting out to more young women who are proud of their Irish heritage; involved in their communities; and interested in being Ottawa's next Ambassador in the Rose of Tralee Festival. I feel lucky to have found a place within such a supportive community here and will continue to take pride in representing Ottawa as the 2010 Rose.
Laura Hay.
2010 Ottawa Rose

For Ottawa in 2010: A Red Rose
By Laura Hay
She was lovely and fair as the rose of the summer,
Yet 'twas not her beauty alone that won me.
Oh no, 'twas the truth in her eyes ever dawning
That made me love Mary, the Rose of Tralee.
Before I submitted my application to become the Ottawa Rose, I memorized this stanza in order to best explain the inspiration behind the selection of a young Rose. I was first made aware of the Rose of Tralee Festival this past fall. Austin Comerton was at the Celtic Festival at Saint Brigid's - backboard out, brochures galore, and playing the televised finale from that summer. I mulled over the idea and after some encouragement, decided to submit my name with the hope that others could perceive in me the sentiments woven throughout that famous song.
With the three other Rose applicants, alongside the 2009 – and might I add first– Ottawa Rose, I spent March 12th to 14th participating in what can only be described as Ottawa versions of Rose of Tralee festivities. Walking in the St. Patrick Parade and making appearances at the post-parade party, the Comhaltas ceili, local Irish pubs, the Gaelic Hour, the NICCC's Pancake Breakfast, and St. Pat's Home all before the Rose Selection… by Sunday afternoon we were done for! The whole weekend was wonderful though. As someone who enjoys attending any event involving the Irish community, I appreciated being able to see a number of familiar faces in each crowd. To then be selected to represent Ottawa at the Regional Finals in Portlaoise – I was over the moon to be given the honour. My responsibilities as this year's Rose began that very first week I was selected. First, with a live interview on daytime television, and then with an invitation to the St. Patrick's Day Reception hosted by the Irish Ambassador. I cannot wait to visit Ireland in June to represent Canada's Capital and hope that you, as part of the Ottawa Irish community, are happy this year to have a Red(headed) Rose.
2009 and 2010 Ottawa Roses Laura Hay and Sarah Thorenton at the 2010 Ottawa Rose selections held in March.