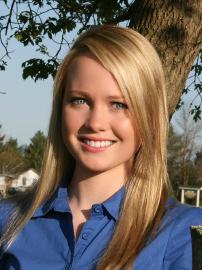 Avaleigh Eastman
Avaleigh has a degree in Social Science, Public Administration & Business and considers herself an 'agvocate', in that she has a passion for agriculture and is concerned with how foods get from the farm gate to the plate. The 22-year-old recently started working for the Dairy Farmer's of Canada as Coordinator of Government Relations, and also works part-time on the family farm. She sees her future in agriculture and plans to campaign to get more young people to consider farming as a viable career option. Raised on a dairy farm, Avaleigh spent her youth as an active member of the West Carleton 4-H Club where she completed projects in Dairy, Field Crops and Scrapbooking. In 2010 she represented the Ottawa-Carleton Plowmen's Association as Queen of the Furrow, and continues to volunteer with the organization. She also enjoys snowmobiling, softball and volleyball athletics, and is an ambassador for a variety of local, University and agricultural organisations. Avaleigh can trace her Irish roots back to Co Tyrone.
Since being our 2012 Rose, Avaleigh continues to be an 'agvocate' working for the Dairy Farmers of Canada in Ottawa. She will be moving farms to start life with her husband-to-be; a dairy farmer no less.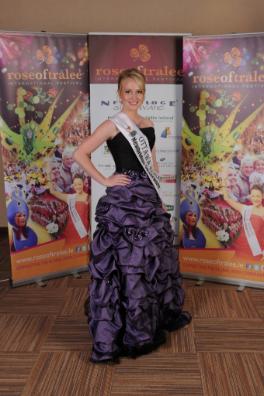 Avaleigh in Tralee, Co. Kerry with the 2011 Rose of Tralee
Tara Talbot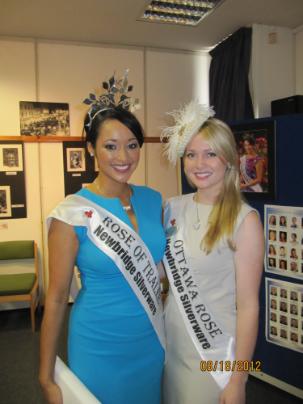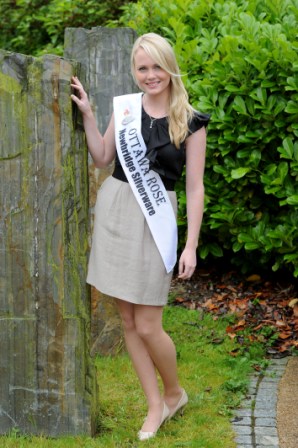 From Ottawa's Rose, Avaleigh Eastman
After returning from a fabulous experience at the Regional Finals in Portlaoise, I am thrilled to have the opportunity to participate in the International Festival this August. It is truly an honour to represent Ottawa and to share some fantastic experiences with so many talented, intelligent and lovely Roses.
Around town we were treated as celebrities! The hospitality shown by the community of Portlaoise was exceptional. The Vintage car parade was a highlight and sharing the experience with my Rosebuds Lauren and Orlaith, was very special. Witnessing the reaction of the young rosebuds towards the Roses confirmed the passion and excitement of this event. Parents and Grandparents were equally thrilled with the festivities and await the annual arrival of the Roses.
My family, two sisters and parents, joined me on this trip, and together we shared wonderful experiences together during and after the festival. Discovering the beauty of Ireland and sharing in the culture with the most kind and fun-loving people will be forever in our hearts. Highlights included visiting the Giant's Causeway, Hill of Tara and meeting local dairy farmers. From county to county, the hospitality was exceptional. I am looking forward to seeing some new friends from Navan, Ireland at this year's Navan Fair.
On August 11th, I leave Ottawa to rejoin the Rose Family in Tralee to continue the celebration of our heritage and culture.
I sincerely appreciate the support provided by our local Irish Community and the Festival Organizers. This opportunity continues to provide memories to last a lifetime.
Ottawa's Irish Rose returns
Kinburn's Avaleigh Eastman is Ottawa's Irish Rose, having represented the city at Rose of Tralee International Festival in Ireland. (Tony Caldwell, CCN)
Chris Hofley
, Capital City News
It was a welcome usually reserved for celebrities as Avaleigh Eastman and her fellow Roses arrived in Ireland in mid-August.
But as contestants in the annual Rose of Tralee competition, the 32 Roses were seen as just that.
"There are no words to describe it, really," Eastman gushed after returning from the Emerald Isle.
Eastman, a Kinburn resident, was selected at the local level as one of the Ottawa representatives that would head to the pageant, which showcases girls from all over the world with Irish heritage.

After arriving in Dublin, Eastman and her fellow Roses moved through the country with stops in Athalone, Westport, Limerick and Galway before arriving in Tralee for the festival. They stopped at the Guinness brewery where they learned to pour the perfect pint and visited a children's hospital for kids with cystic fibrosis.
Eastman said it was a thrill to stop by a seniors' residence, where many of the people knew all about the Roses.
"To see their excitement was really neat," she said. "It really hit home how popular (the festival) is."
She said people would recognize her in the street, and pubs would take bets from locals on who they thought would be crowned the Rose of Tralee. After her on-stage interview, Eastman said her own odds jumped from 50-1 to 10-1 overnight.
Eastman, who lives and works on the family farm in Kinburn, was also scheduled to milk a cow on stage during the festival, but the bit had to be cancelled at the last minute because the cow was restless and wouldn't keep still.
Being on stage for her interview was nerve-racking at first, Eastman said, but the emcee immediately put the contestants at ease.
While she didn't win the competition -- that honour went to the contestant from Luxembourg -- Eastman said that was never her goal heading into the festival. The highlight for her, she said, was the parade in Tralee, where people lined the streets to cheer on the contestants.
"Those people actually came out to watch us," she said.
Overall, Eastman said the experience was a huge thrill and recommends others with Irish heritage get involved in future years.
"For not having grown up in Ireland, it was really neat to see it (that way)," she said.
The two-part television special at the festival was broadcast to over a million people in Ireland.

Kinburn native has time of her life at event in Ireland, Avaleigh Eastman shines at the Rose of Tralee International Festival
Posted Aug 30, 2012
By Theresa Fritz
---
EMC events - The bloom hasn't come off Avaleigh Eastman's rose, even though she didn't win an international competition in Ireland recently.
The Kinburn native recently returned from Tralee in County Kerry where she took part in the Rose of Tralee International Festival from Aug. 17-21. Her road to the 'Emerald Isle' began in March when she captured the title of Ottawa Rose and then was selected a finalist in a competition in Portlaoise, Ireland back in June. She was one of two Canadian Roses to make the trip to Tralee.
"It is very hard to put words to it (the experience). It was very incredible," she said. "The people there are very supportive."
As one of Ireland's largest and longest running festivals, The Rose of Tralee International Festival was initially conceived as a way to bring Irish descendants back to Ireland, as well as a means of boosting the local economy and regenerating the Town of Tralee. It has since expanded to include centres from across the globe including Ottawa, which selected its first 'Rose' in 2009.
The festival derived its name from a 19th century love story written by William Mulchinock, a 19th century merchant, for Mary O'Connor. The song includes the lyrics, "lovely and fair as the rose of summer, it was not her beauty alone that won me, oh no, 'twas the truth in her eyes ever dawning."
The event, covered in all the Irish daily newspapers including a large photo spread featuring Eastman and other Roses in the Irish Daily Mail, is a national event. The finals were a two-night extravaganza carried on live television.
"It is a huge there. It really hit home when we stopped at a place and everyone knew what the Rose of Tralee was," Eastman recalled.
The Roses are considered ambassadors for not only the countries they represent but their Irish heritage. The winner of this year's festival, a 26-year-old teacher named Nicola McEvoy representing Luxembourg, is a native of Ireland who now teaches in that country.
Eastman said part of the thrill of the experience was the way the Roses were able to spend so much time together leading up to the big event.
Before the festival began, all the young women went to Dublin and then made their way to Tralee.
"We visited different places along the way in a coach bus," she recalled, noting stops included visits to seniors' homes, the Guinness factory, a children's hospital and Croke Park Stadium in Dublin - home of Gaelic games and the headquarters of the Gaelic Athletic Association (GAA).
On the visit to Croke Park, Eastman and the other Roses received their certificate of Irish heritage.
"It was very cool to visit so many attractions," Eastman admitted.
But she says the pace the Roses kept during their time in Ireland was quick. They were always dressed up and fully made up.
"It was like going to two weddings every day," she explained.
Particularly fun for her was the fact that one day when she got off the bus, she heard someone yelling "Ottawa" and telling her they had bet on her. Betting on who will become the Rose of Tralee is big in Ireland, although the Roses themselves are not fully aware of the extent.
"My odds were 50-1 at one point and then after I was on television, I heard my odds for 10-1," she said with a laugh.
During the live portion of the broadcast, Eastman was scheduled to show off her agricultural background by milking a cow. Raised on the Centuryholm dairy farm in Kinburn, she has a passion for agriculture. She was an avid member of the 4-H Community Club, completing projects in field crops, showing dairy calves and scrapbooking, and attending numerous leadership conferences.
She represented the Ottawa-Carleton Plowmen's Association in 2010 as Queen of the Furrow and continues to volunteer with the organization as a director and webmaster. As a summer student with the City of Ottawa Rural Affairs Department, Eastman enjoyed participating in Food Aid Celebrity Milking Contest.
"I don't dance and I don't sing but I can milk a cow," she chuckled.
As she went out on stage, she noticed a milking stool and bucket in the wings but the cow, Daisy, was a bit nervous and event organizers decided against the demonstration.
Eastman is not disappointed she did not win the overall title because she won in so many other ways.
"The experience alone was incredible. Just being mentioned as the Ottawa Rose was amazing," she said.
She also made friendships that will last a lifetime and opened up the world to her in a way she could not have imagined.
"I now know people around the world," she stated. "We are all like-minded girls and all goal-oriented."
But perhaps the greatest victory for Eastman is the reconnection with her Irish heritage.
"I've always wanted to go to Ireland. Just going back, it felt like home," she noted.
A graduate of Arnprior District High School, Eastman holds a degree in Social Science, Public Administration & Business and works for the Dairy Farmer's of Canada as coordinator of government relations, and also works part-time on the family farm.
"It all happened so quickly. It (Rose of Tralee experience) is something I want to promote to girls in this area," she concluded, adding there are international reunions in Ireland every 10 years so she is looking forward to going back to Ireland in 2022, if not before.

***************************
Friday, August 24 2012
'Daisy' fails to shine among all the Roses on first night
SHE was shampooed and pampered for her big night and wearing her sash, but sadly she never made her debut.
'Daisy' travelled all the way from Dingle to Tralee for the Rose of Tralee last night, the first time a bovine was ever represented at the festival.
Farmer Liam Antaine O Cathasaigh had put in a busy day, making sure the cow was groomed for the Festival Dome. But just before her live appearance Daisy got stage fright and what was to be a surprise for farming Rose Avaleigh Eastman from Ottawa was not to be.
Daisy was one of the lighter moments in last night's live show which was also tinged with sadness as the 2010 Texas Rose, Adrienne Hussey, who died unexpectedly in Dublin in January, was remembered.
The 26-year-old died of a brain haemorrhage, having relocated to Ireland to be with her boyfriend Eoin Treanor, an escort at the 2010 festival.
Sadness
She was a close friend to two of this year's Roses, Kelly Gaetano from Texas and Elizabeth Spellman, representing Philadelphia.
"The Irish-American and Rose of Tralee communities showed their strength this year when the powers that be took Adrienne from us," said compere Daithi O Se. "Both communities came together in sadness and showed what a powerful unit us Irish can be."
It was also an emotional night for last night's final Rose, Ann-Marie Hayes from Kerry, whose father Patrick died before Christmas. The newly-qualified doctor wore a blue silk gown as a tribute to her dad who had bought the silk in Sri Lanka.
And it's not just about the girls and the cow -- the boys also got a look-in -- with Ian Cullinane being announced as 'Escort of the Year', winning €5,000 and a set of Newbridge Silverware cutlery.
The trainee accountant is escorting Mayo Rose, Dervla Kenny, the niece of Taoiseach Enda Kenny.
- Majella O'Sullivan
Irish Independent
***************************
Beauties and a beast among first bunch
By Fiachra Ó Cionnaith
Tuesday, August 21, 2012
At last! At last! We can say it without fear of retribution!
The Rose of Tralee festival suffered the first official mad cow in its history last night, after the mystery live TV highlight of the Monday show had to be pulled moments before going on air.

In the lead-up to the Nine O'Clock News break, RTÉ bosses planned to sneak a milking cow into the festival dome in a tongue-in-cheek reference to Ottawa rose Avaleigh Eastman's farming background.

In-on-the-gag Dáithí was prepped. The stool where he was to sit while receiving a lesson on milking was being positioned. Extra time had been allocated so the popular presenter could milk it, in every sense. And then… Then?... (Psst, that's your cue)... Udder cow-tastrophy.

Less than five minutes before the Canadian beauty was due to banish understandable live TV nerves by making her Rose of Tralee pitch, and unknown to her, Daisy the cow was suffering her own form of stage fright.

Noticeably thrashing away inside her carrier outside, the "too lively" cow was deemed to be a health and safety risk, leaving a panicked Dáithí to fill the extra time with an endless stream of farming references — with a Tralee, TV and web audience oblivious to the last-minute moooo-ve.

While the Irish Examiner has been assured the entirely healthy Daisy has not been whisked away to that great restaurant in the sky as punishment, the consequences for the festival are more obvious.

Puns like "pull the udder one", "I calf believe it" and "Roses fail first herdle" are due to stampede through Tralee for weeks to come. We apologise in advance.

Thankfully for festival organisers, who admirably took the faux pas on the chin, the remainder of the first part of the two-night live TV extravaganza went off without a hitch, with the usual array of bizarre stories, tales of worldwide Irishness and memorable talents taking centre stage.

Ottawa Rose Avaleigh's interview went perfectly, allowing her to explain her previous title of Queen of the Furrow in Ontario — think Rose of Tralee contestants wearing a dress, sash and crown while ploughing a field.

Sports-mad student teacher Westmeath Rose Aisling Baker, 21, opened the show with tales of unemployment, stalking and Páidí Ó Sé. While none are related, she said her plan is "to go to Dublin with no job and try and get one, it's seamless", adding that she was loved up with her current boyfriend.

"He looks like a stalker," whispered Dáithí, who was more impressed with her meeting Páidí. "Between Páidí and myself we have eight All-Ireland medals," he said.

Chicago Rose Margaret Rose Keating confirmed her last boyfriend "broke up with me two days before he joined a seminary", while Kerry's Ann-Marie Hayes also showed why she is among the favourites. But just as eye-catching was German Rose Bronwyn Sass's work admission.

It turns out air hostesses do flirt with co-pilots, even when the entire airport tower, flight crew and passengers are listening due to a computer "glitch".

"It's just you really spend your day on top of each other," she said. "Hold on! This is the Rose of Tralee, not Podge 'n' Rodge," Dáithí stepped in.

Thankfully it didn't happen on her flight with the Dalai Lama. We hear he prefers blondes.
***************************
Tuesday, August 21, 2012
Dáithí plays perfect host but he's no cowboy
"COW ACT not happening – she's too lively!" the text came to my phone just as Dáithí Ó Sé was due to milk a live cow on live television under the guidance of Ottawa Rose Avaleigh Eastman.
Eastman's family have 400 acres, 40 cows and she calls herself an "agvocate". If Dáithí had milked that cow, Eastman would have had the farming vote – unless another Rose wrestled a sheep-stealing wolf or renegotiated the Common Agricultural Policy. They should have known. As I sneaked into the Dome before Eastman took to the stage, I could tell that Daisy – pooing to the left of the main door as I entered – didn't have the X-Factor.
Still, it was a great old do. California's Erin Kelley told a childhood story about chasing a monkey who stole her bottle (America is brilliant!). Chicago Rose Margaret Rose Keating sang a song about emigration and famine. And, as is tradition,
Dáithí helped take a dress off a lady, Melbourne Rose Claire Lynch, so she could demonstrate Aussie Rules football.
In nods to cosmopolitan modernity, the Luxembourg and New Zealand Roses sang in foreign tongues (French and Maori) and New Orleans's Lisa Brady encouraged Dáithí to zumba dance – a sight that probably put zumba back decades.
"I've always found it very hard to differentiate my hips from my backside," Dáithí confided, demonstrating this strange fact through dance. He also teased the escorts ("a strange looking bunch of lads"), donned fake eyebrows to scare an eyebrow-phobic Texas Rose ("Touch them!") and flirted with Avaleigh Eastman's mother ("I have a wife. I'm not blind!").
For some, the big media- friendly, black tie event in the big tent by the Carlton Hotel is just an excuse for the town to have a big hooley. Earlier that Monday morning, in the lobby of the hotel where I was staying, perplexed early-rising German sightseers watched smudgey-eyed revellers who were clasping high heels and slurring their words. One girl dozed on a couch as a security guard gently tried to rouse her. "She likes to sit where she likes to sit," said her boyfriend stoically.
A tall chap rubbing his temples in the breakfast room was an escort in 2007. "Being an escort was the best week I ever had. The closest I'll ever come to being David Beckham."
His friend, the only one in their group not in a dishevelled mess, was a Rose in 2008 and glowed with surprising good health and sobriety. "Once a Rose always a Rose!" she said with a broad smile. Out in the lobby, the slumped young lady had been joined by two more slumped young ladies and the Germans looked nervous. It was a bit like a modern version of Hitchcock's The Birds.
My taxi-driver Jim, like some other Tralee residents I met, complained that the festival is now "a bit corporate, a bit black tie", but the Dome was filled with enthusiasts. Roger Harty, chaperone to the judges, is a local optician, and said the idea for the first festival in 1959 came together in his father's pub.
"He was one of the people who started it. They wanted to bring business to the town. They came up with the idea of the Rose of Tralee and travelled to America in an old biplane to organise it . . . Every year I still ring Alice O'Sullivan for a chat."
The festival has changed a bit since then, as have the Roses.
The girl in the ballad, according to local lore, was a lowly maid. Darwin Rose Sheila McAndrew runs a cleaning business (Maid in Darwin) and this year's group include PhD students, doctors and various corporate highflyers.
Of course they haven't changed in other ways. They're all polite, demure and generally delightful. There has yet to be a Rose who's mounted the stage drunk with a fag hanging from her lip, screaming: "I'll fight every one of you!"
Michael Kearney, chief executive of the Carlton Hotel Group, and a judge in the competition, spent the day conducting group interviews with these accomplished young women who have, admittedly, made an unusual lifestyle choice. This morning, according to Kearney, the discussion subjects were: 'wrinkles or Botox?' and 'online dating'. Does he feel competitions like this are in any way dated?
"Actually that was one of the other topics we had today! 'Is the Rose of Tralee dated and something we should be doing in the 21st Century?' They had lots to say on that."
You see, you can't really win when criticising this festival. Just like you can't win when criticising Dáithí Ó Sé, who that morning at rehearsals eejited it up every way possible to help nervous Roses feel comfortable. ("He's like the Energizer bunny," said an appreciative Sheila McAndrews).
He danced goofily to pianist Ollie Hennessy's sporadic and impromptu renditions of Teddy Bears Picnic, and explained why a bald man in a headset was occasionally touching them on the back (I assumed he'd won a 'Touch the Roses' competition).
"He's just making sure you're in shot," says Dáithí. "But don't worry, he has the softest hands. We did the Fairy Liquid test!"
Soon Dáithí was hosting part one of a six-hour production with 32 beautiful women, line-dancing, zumba and, offstage cows with stage fright. His secret? "I ask for Curly Wurlys in my dressing room" (Full disclosure: he gave me some Curly Wurlys).
***************************