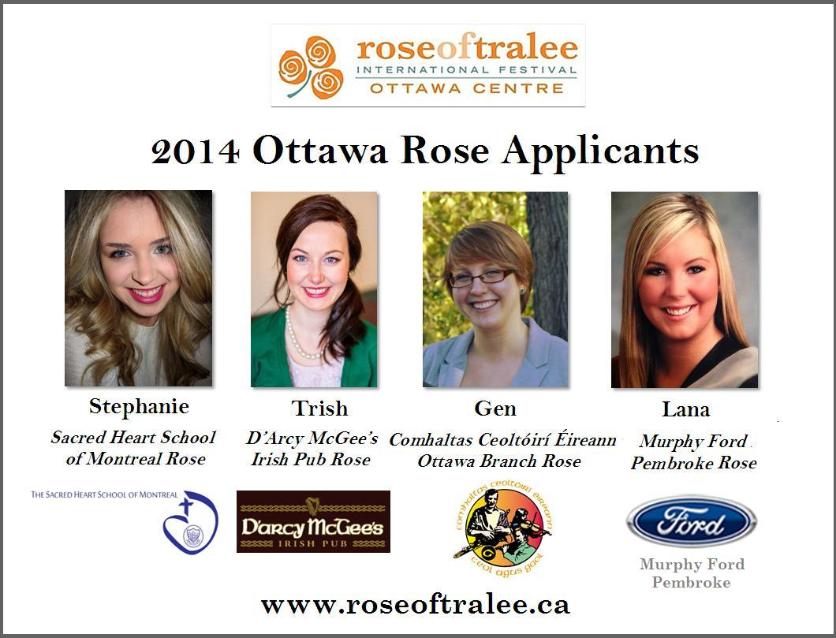 2014 Ottawa Rose Applicant Bios
(in alphabetical order)
Stephanie Coull
Sponsored by the Sacred Heart School of Montreal
Stephanie holds a diploma in Health Science from Marianopolis College and Bachelor Degrees in Anatomy and Cell Biology, and Education from McGill and the University of Ottawa. A Montreal native, 27 year-old
Stephanie has been an active member of the Bernadette Short School of Irish Dancing for 18 years and has performed for audiences all over the world in addition to being the Eastern Canadian Senior Lady Champion two years in a row. Stephanie – or should we say Ms. Coull - is currently working with young girls as a Math and Science Teacher at the Sacred Heart School of Montreal. A big country music fan, Stephanie would never pass up the opportunity to see Lady Antebellum, Brad Paisley and the Zac Brown Band perform. Her Irish roots come from the Mulrooneys on her mother's side.
Patricia Mahoney
Sponsored by D'Arcy McGee's Irish Pub
With a Bachelor of Science from St. Francis Xavier University, 25 year-old Trish is completing a Bachelor of Education from Lakehead University in a specialized Outdoor Ecological Experiential Education program. Trish has hopes of becoming a high school Biology and French Teacher after working at the Tim Horton's Camp des Voyageurs in Quebec and the Vimy Ridge and Beaumont-Hamel National Memorials in France. Trish loves everything to do with the outdoors and has a passion for theatre. A self-proclaimed "bio-nerd", her Science Interpreter job at the Canadian Museum of Nature is a great fit. Trish got involved with the Rose of Tralee Ottawa Centre last year. Her Irish roots hail from Co. Cork on her father's side while the O'Briens and Keefes are on her mother's side.
Lana Murphy
Sponsored by Ford Murphy Pembroke
A graduate of Saint Mary's University, with a Masters of Marketing, Consumption and Society from the University of Limerick; 26 year-old Lana currently lives in Pembroke. She is the Manager of Marketing and Fixed Operations for Murphy Ford Sales Ltd. with aspirations to pursue further marketing endeavours in Ottawa. Lana is an avid soccer player in the Upper Ottawa Valley Adult Soccer League and active member in her community fundraising for the Pembroke Regional Hospital Foundation, Jubilee House, and Unite for the Fight. While living in Limerick, Lana found out about the Rose of Tralee and upon her return to Canada set out to apply. Lana comes from a long line of Irish ancestry. Her father's side hails from both Co. Cork, and Co. Mayo.
Genevieve Robinson
Sponsored by Comhaltas Ceoltóirí Éireann Ottawa Branch

Twenty-two year-old Genevieve is completing her final year in Biomedical Science at the University of Ottawa. A current member of the Canadian Society of Microbiologists, Gen has plans to pursue a Master's degree in Microbiology and Immunology in September 2014. She sees herself researching novel treatment options for microbial infections. In community life, Genevieve is a passionate Irish dancer and active member of
Comhaltas Ceoltóirí Éireann (CCE). She has been the Regional Youth Officer for Eastern Canada for the last three years and has been nominated for the position of Provincial Youth Officer within CCE, which encompasses North America. Genevieve is presently Vice President of Community Affairs for the University of Ottawa Celtic Club. Her Irish ancestry stems from her maternal side of the family.